E' stata da poco confermata la presenza di Eminem al Citi Sound Vault a New York, uno spettacolo Pre-Grammy che si terrà dal 24 al 28 Gennaio 2018.
Le prime due serate saranno impegnate dai Thirty Seconds to Mars e dai The National, dopo le quali ci saranno Eminem, Dave Matthews, Childish Gambino e i The Roots.
Eminem si esibirà il 26 Gennaio, ma non è ancora chiaro quante e quali canzoni canterà e se ci saranno presenti eventuali artisti di supporto.
Qui di seguito il programma del Citi Sound Vault 2018, durante il quale si esibirà anche Eminem: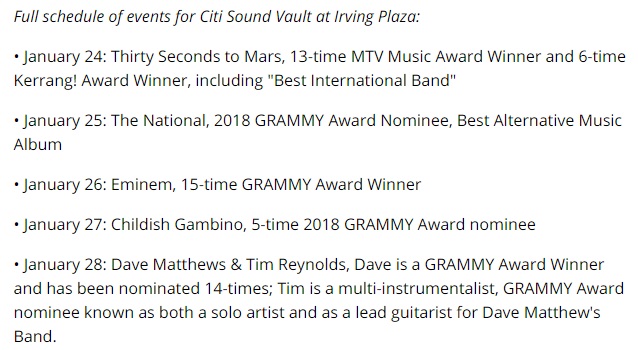 Per sapere di più e discutere con gli altri fans al riguardo, potete visitare la nostra pagina Facebook ufficiale, Eminem Italian Site. Vi aspettiamo!
Copyright © MarshallMathers.eu | Riproduzione totale o parziale severamente vietata